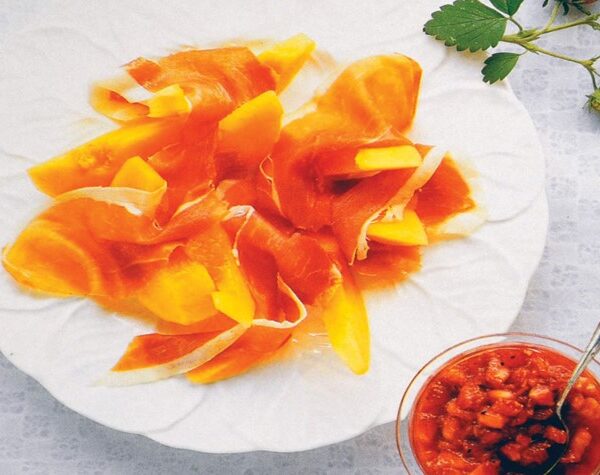 Melon, Prosciutto, and Strawberry Salad
Ingredients:
1

Large Melon, Cantaloupe, Galia or Charentais

4

oz

Prosciutto or Serrano Ham, thinly sliced

8

oz

Strawberries

1

tsp

Sugar

2

tbsp

Mango Balsalmic Vinegar

1

tbsp

Unsweetened Orange Juice

1/2

tsp

Finely Grated Orange Zest
Directions:
Halve the melon and remove the seeds with a spoon. Cut off the rind with a paring knife. Discard the seeds and rind, then slice the melon flesh thickly. Chill until ready to serve.
To make the salsa:
Hull the strawberries and cut them into large dice. Place them in a small mixing bowl with the sugar and crush lightly to release the juices. Add the olive oil, mango balsamic vinegar, orange juice, and orange zest. Season with salt and a generous twist of black pepper.
Arrange the melon on a serving plate, lay the prosciutto on top and serve with a bowl of salsa alongside.