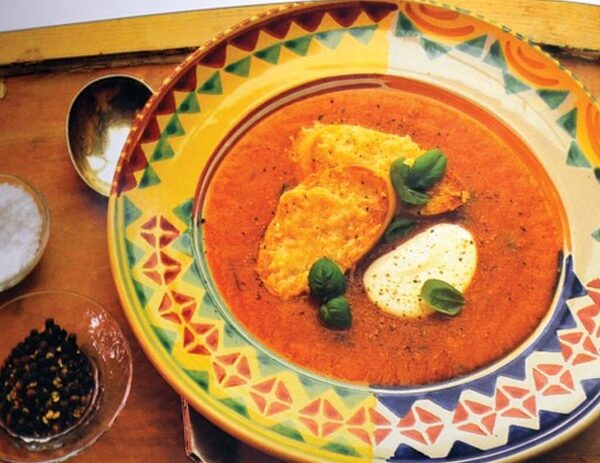 Tomato Soup
Ingredients:
3 1/2

lb

Ripe Tomatoes

1 2/3

c

Chicken or Vegetable Stock

3

tbsp

Tomato Paste

2-3

tbsp

Modena 25 Star Balsamic Vinegar

2-3

tsp

Sugar

Small Handful Fresh Basil Leaves

Fresh Basil Leaves, to garnish

6

Small Toasted Cheese Croutons

2

tbsp

Low-Fat Sour Cream
Directions:
Put tomatoes into a bowl of boiling water for 30 seconds, then refresh in cold water. Drain. peel and discard the skins and quarter the tomatoes. Put them in a large saucepan and pour in the chicken or vegetable stock. Bring to a boil, reduce the heat, cover and simmer gently for 10 minutes, until the tomatoes are pulpy.
Stir the tomato paste, vinegar, sugar, and bail. Season with salt and pepper, then cook gently, stirring for 2 minutes. Puree the soup in a blender or food processor then return to the rinsed out saucepan and reheat gently until piping hot.